NEURO-IFRAH® Advanced Gait (a Neuro-IFRAH® course originated by Waleed Al-Oboudi)
---
NEURO-IFRAH CLINICS, Los Gatos, CA 95032
Waleed Al-Oboudi MOT, OTR Originator of the Neuro-IFRAH® Approach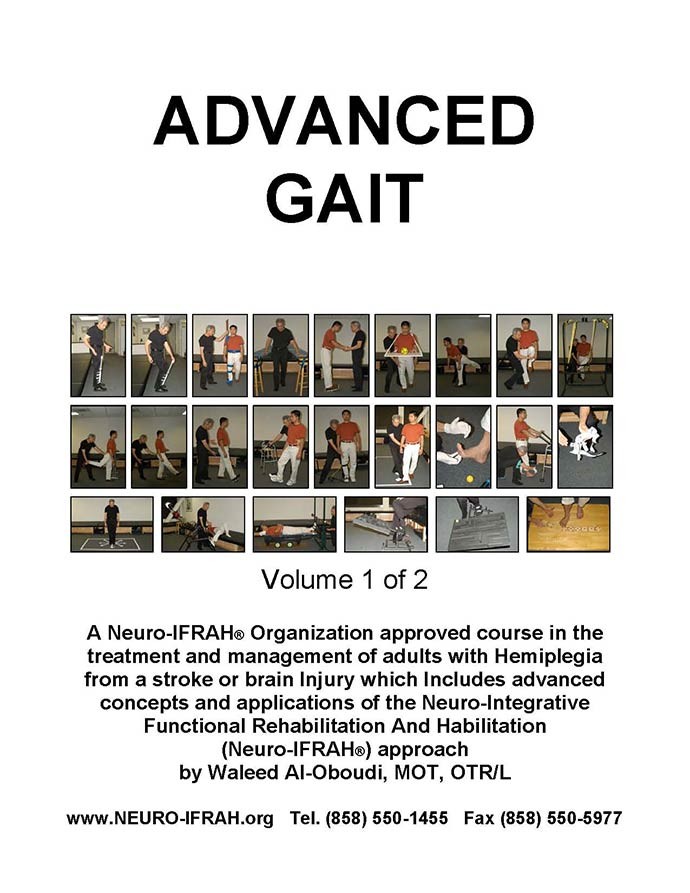 This five day Neuro-IFRAH® Organization approved advanced course is specifically designed for occupational therapists who work with patients affected by stroke or brain injury. Licensed occupational therapy assistants, physical therapists and licensed physical therapy assistants require special permission for acceptance. Also this course is for particpants who have successfully completed the Neuro-IFRAH® Certification Course. This course will cover concepts from the well rounded whole person and functional Neuro-IFRAH® model for normal gait. Participants will be provided with practical applications and step by step instructions for the reacquisition of skills that are essential for normal gait. This course is authored and designed by Waleed Al-Oboudi who is renowned for his superior and unmatched visionary concepts and highly effective and creative techniques. This course promises to increase clinician's assessment and management skills as well as introducing concepts that will be unmatched in expanding participant's perspective of normal gait.
1. Identify Neuro-IFRAH® concepts related to normal gait.
2. Identify concepts related to developing an effective well rounded gait assessment.
3. Identify missing components interfering with normal gait on a patient.
4. Develop an effective treatment plan on an actual patient to restore identified missing components interfering with normal gait.
5. Demonstrate effective application of management strategies learned to resolve patient's impairments and improve the function of gait.
6. Modify treatment strategies.
7. Demonstrate effective use of tools to grade and enhance effectiveness of results.
8. Integrate concepts related to whole person function, walking, the environment, and adaptation.
Upon successful completion of the course, participants will be Neuro-IFRAH Advanced Trained®.

Please note that the criteria to be admitted into Neuro-IFRAH® advance courses REQUIRE that the applicants be Neuro-IFRAH Certified® and are using the information learned in the Neuro-IFRAH® Certification Course in the treatment and management of Stroke and Brain Injury patients

Recommended Reading: "Back to the Summit" by Sen. Omer Rains


(Sponsor reserves the right to cancel course for unforeseen reasons), cancellation policy: No refunds if applicants cancel less than 45 days prior to the course. Full refund of tuition paid if the course is cancelled by the sponsor for unforeseen reasons. Final decision on course status will be made 35-40 days prior to the start date of any course.