NEURO-IFRAH® Advanced Hand Function/ Fine Motor Control in Functional Activities (a Neuro-IFRAH® course originated by Waleed Al-Oboudi)
---
$2300 or $4100 Combo with Adv UE Course
Waleed Al-Oboudi MOT, OTR Originator of the Neuro-IFRAH® Approach
NEURO-IFRAH® Advanced Hand Function/ Fine Motor Control in Functional Activities (a Neuro-IFRAH® course originated by Waleed Al-Oboudi)
---
Hong Kong ONLY OPEN TO HONG KONG THERAPISTS
Waleed Al-Oboudi MOT, OTR Originator of the Neuro-IFRAH® Approach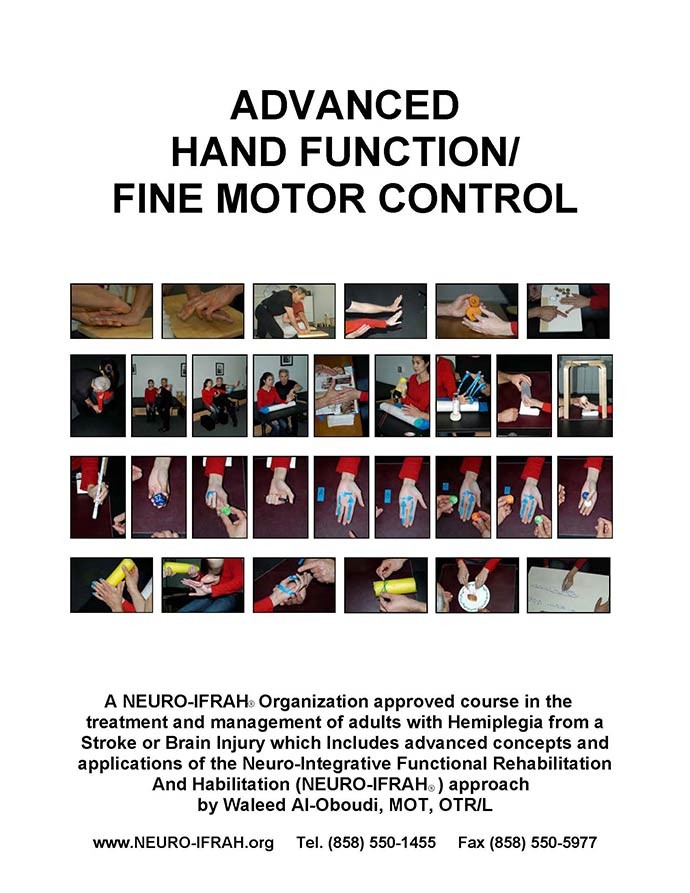 This 5-day Course is specifically designed for occupational therapists who work with patients affected by stroke or brain injury. Licensed occupational therapy assistants, physical therapists and licensed physical therapy assistants require special permission for acceptance.. As a prerequisite to attending this course, participants must have completed a Neuro-Dynamic Therapy Certification course or a NEURO-IFRAH® certification course.

This course consists for lecture and intensive lab sessions. Lab sessions will focus on development of advanced patients handling skills through working with other participants and actual patient treatment by participants.

Lecture and Lab session are complemented by visual aids demonstrating the application of concepts and techniques provided in a clinical setting. Patient demonstration and individual attention by the instructor to participants during patient treatment session will be provided to enhance the participants handling and problem solving skills. This course meets one week of 4-weeks requirement forthe NEURO-IFRAH Specialist® program.
1. Identify normal movement components of upper extremities specifically the hand.
2. Discuss biomechanics of the upper extremity with an emphasis on the hand.
3. Analyze typical patterns of the hand that interfere with function.
4. Discuss the development and effect of hand function as related to proximal control.
5. Demonstrate appropriate treatment strategies during treatment practicum.
6. Synthesize information to develop appropriate treatment strategies for persons with neurological dysfunction.
7. Identify concepts related to characteristics of hand use/ function, facilitation of hand function/fine motor skills, improving hand alignment and decreasing or preventing hand impairments and functional limitations.
8. Apply handling techniques to facilitate hand function in coordination with the whole body.
9. Apply handling techniques to improve hand alignment and mobility and facilitate hand function/ fine motor control in coordination with the whole body in functional conditions.
10. Identify concepts related to the restoration of upper extremity automaticity and carryover in functional use during ADL's and other functional activities.

Please note that the criteria to be admitted into Neuro-IFRAH® advance courses REQUIRE that the applicants be Neuro-IFRAH Certified® and are using the information learned in the Neuro-IFRAH® Certification Course in the treatment and management of Stroke and Brain Injury patients.
(Sponsor reserves the right to cancel course for unforeseen reasons), cancellation policy: No refunds if applicants cancel less than 45 days prior to the course. Full refund of tuition paid if the course is cancelled by the sponsor for unforeseen reasons. Final decision on course status will be made 35-40 days prior to the start date of any course.